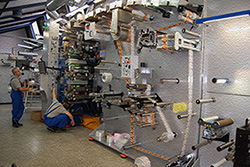 Biuro Badawczo-Wdrożeniowe Sp. z o.o. is an innovative company operating since 2011. We provide comprehensive service for both design and production of innovative and specialized machines for industry, including food packaging.
All our machines and devices are configured and designed for individual needs of our clients, taking into account their requirements and experiences.
We have a specialized team of engineers and many years of experience in the field of automation, precision mechanics, mechatronics and pneumatics. This allows us to implement diverse and unusual projects and even upgrade solutions that already exist in the market.
In our work we use the best design and technological solutions that are backed by years of experience of our employees and customers spread around the world.
Since its establishment, the company expands its list of customers. Our machines and technology have been appreciated by customers from Colombia, New Zealand, USA, Kazakhstan, Russia, Uzbekistan and many others.
In addition, the company provides maintenance services – as an after sales service and also for customers with machines from other manufacturers.